dealCancellation gives you the power to cancel a losing deal within 1 hour and have any losses returned.
A unique easyMarkets tool to trade risk-free!
Make that trade!
Committing to a trade can be an unnerving step. Take away the fear, make your trade and if it goes against you just cancel it – like it never happened!
Bigger deals
Ever wanted to up the stakes in your trading and make bigger deal sizes? Now you can, safe in the knowledge that if the market is not in your favour you can cancel the deal.
Trade the big events, safely!
During big announcements like NFP releases, many brokers disable trading. We don't! Make the most of the opportunity and protect yourself from the risks.
Volatility can be your friend
Volatility can be your friend as market volatility means more opportunity, but also more risk. Take away the risk with dealCancellation and cancel your losing deals.
How it works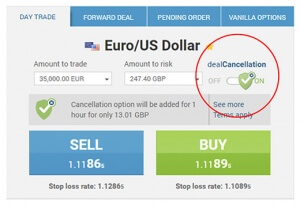 Next deal you open, just click for dealCancellation to be applied!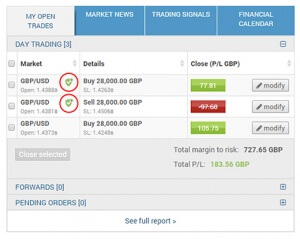 See the trades you've protected with deal Cancellation in your open trades report.
The deal Cancellation logo is clearly displayed on protected trades.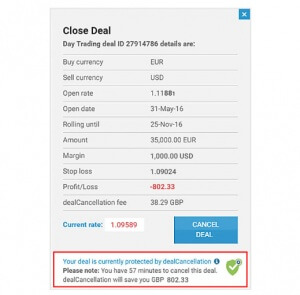 Cancel your losing deal within the set time parameter.
If you hit your stop loss before the dealCancellation expiry, you still get your money back!
Ask your relationship manager to enable dealCancellation on your account today!

Look for the deal Cancellation icon on your trading ticket.