The crude oil price reversed direction Monday to climb back above $30 (WTIC) as the market has started to discount the probability that the Iranians have been duped into given up nuclear weaponry, in a perpetual U.S. game of sanctions for ever for the purpose of Iran being systematically disarmed of it's military capacity much as Iraq was disarmed before a pretext for invasion was manufactured by the Intelligence Agencies all to appease the Saudi and Israeli fundamentalist states (Islamic and Jewish).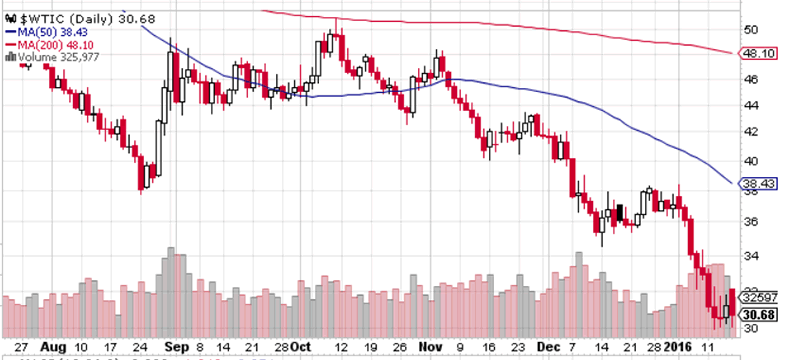 Whilst the new sanctions on Iran are not anywhere near as severe as the nuclear sanctions that were scrapped barely 24 hours earlier, still it amounts to a kick in the teeth for the Iranian people. Which is another example of why the United States just cannot be trusted, where the reality of an Empire does not match the illusion of freedom and democracy. This despite the fact that the world is definitely a far safer place without a nuclear Iran. However, the fact that the United States has once more shown that it cannot be trusted (ask the north american indians) sends a message out to all states to build up their militaries and enter into alliances and pacts so as to deter the potential of future U.S. Imperial aggression or from America's client rogue states such as the nuclear armed Israel and Saudi Arabia (which has a dozen or so Pakistani nukes on standby).
At the end of the day the U.S. has made a mistake for THREE reasons –
1. Double standards, arming the Israeli and Saudi rogue states to the hilt whilst prancing about the U.N. demanding other rogue states be disarmed.
2. Sends a message that the United States cannot be trusted, so take appropriate defensive action.
3. Iran's economy is about to boom following the lifting of 'most' sanctions, which means tens of billions of dollars of foreign contracts, but not now for U.S. corporations. Furthermore in the future an economically healthier Iran will have a greater incentive to arm itself with Russian and Chinese weapons.
Effective disarmament should always take a MULTI-LATERAL approach, so YES Iran should NOT have nuclear weapons or ballistic missiles, but neither should Israel, Saudi Arabia, Pakistan, India, China etc. For the fundamental fact that it does not matter who starts a nuclear war because no one wins. Even worse is that messianic fundamentalist states that crave Armageddon so that the Messiah, Jesus or Mahdi will come, so putting nuclear weapons in these fanatical hands is just asking for trouble be they Christian, Jewish, Hindu or Islamic fundamentalist states as it's explained in this video:
Until a multi-lateral approach is adopted then nations will continue to have no choice but to counter threats in regional arms races which for Iran is on multiple fronts whilst it's key allie, Russia is presently crippled due to the collapse in oil price that has hit the Russian economy hard.
For the prospects for the crude oil price for the whole of 2016 see my recent in-depth analysis and accompanying video :
See more: http://www.marketoracle.co.uk/Article53725.html?