Both Mario Draghi and Haruhiko Kuroda need weaker currencies as they strive to reflate their economies, but they aren't going to get them unless the U.S. central bank lends them a hand.
The Federal Reserve's outlook to be announced Wednesday will be watched particularly closely by the European Central Bank and Bank of Japan as their record monetary easing seems to be losing impact. The euro strengthened after the ECB boosted stimulus last week, and the yen soon erased initial declines to advance after the BOJ announced its first-ever negative-rate policy in January. The euro has risen 2.2 percent against the dollar this year and the yen has jumped 6 percent.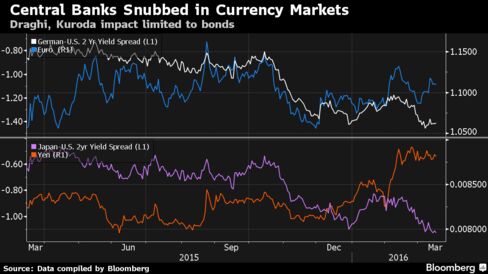 "The quantitative easing done by these countries, if it's reliant on currencies, requires the Fed to play ball, and if the Fed isn't playing ball, the effectiveness goes down," said Roger Bridges, chief global strategist for interest rates and currencies at Nikko Asset Management Australia in Sydney.
The probability that the Fed will follow up its December rate increase — the first since 2006 — with another this year has swung wildly in the past three months. The odds of a move by year-end have jumped to 80 percent, from as low as 11 percent as recently as Feb. 11, based on data compiled by Bloomberg based on fed fund futures.
Traders see less than 50 percent odds for two increases by year-end, contrasting with previous Fed guidance that it expects to raise interest rates four times in 2016.
Lack Conviction
"The meetings of the BOJ and the ECB revealed that even negative rates can't guide currencies lower amid a lack of conviction for the Fed," said Daisuke Karakama, chief market economist in Tokyo at Mizuho Bank, a unit of the country's third-biggest lender. "The two meetings made clear the adverse effect of negative rates."
The ECB may be more fortunate than the BOJ as the euro could be pushed down by global risks such as European banking problems, Middle East geopolitical concerns and uncertainty over the U.K.'s referendum to exit the European Union, said Shusuke Yamada, a currency strategist at Bank of America's Merrill Lynch unit in Tokyo.
Bank of America Merrill Lynch projects the euro will weaken to 110 yen by year-end, from its current level of 125.88. The forecast is the most bearish after Barclays's 90 yen, according to surveys of analysts compiled by Bloomberg.
"Europe is more vulnerable to global risks and that's reflected in our forecast for a weaker euro against the yen," Yamada said. "There are more event risks in Europe including banking sector issues and the risk of a U.K. exit from the EU."
See the original article: http://www.bloomberg.com/news/articles/2016-03-16/draghi-waiting-on-fed-with-kuroda-as-euro-yen-need-help-to-fall