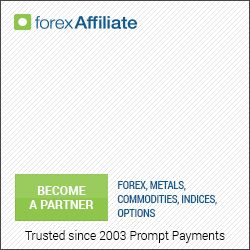 Among all the different partner programs in the world, there's one forex affiliate program that stands out from the rest.
The one called "forex-affiliate", which is the easy-forex and easyMarkets affiliate network.
Maybe it's because they were one of the first online forex brokers that they had the time to make their forex partner program so unique, to get all the insights, the statistics, the dynamics and possibilities correct. Easy to use, easy to set up, and they're even available on skype to further be in easy communication.
They offer CPA of up to $400 as well as revshares up to 15-25% depending on traffic.
Unique deals are also available for the right affiliate who shows promise of becoming a great forex partner.
They truly strive for a win-win setup, which in turn is shown by their large amount of creatives, banners, images, landing-pages and the support they give their affiliates, which is why we feel this is the best forex affiliate program available.
Ask and you shall recieve 🙂
Out of the forex affiliate and partner programs we have tested, this is the absolutely best partnership program out there.
They accept IB, partner and affiliate signups and even provide sub-affiliate deals.
Some keynotes:
Up to $400 CPA (for online affiliates) .
Up to $50 lot rebate (for introducing brokers) .
Earn 10% commissions from your sub-affiliates.
Tailor-made commissions CPA / LOT REBATE.
Monthly payouts to your Skrill-, trading- or to your bank-account.
High converting marketing tools.
Advanced real-time reporting.
Dedicated account manager.
And best of all, their staff will help you choose the best converting banners, help you with tips for your sites and go the extra mile to help you.
Join in on the good stuff and start getting paid what you deserve!