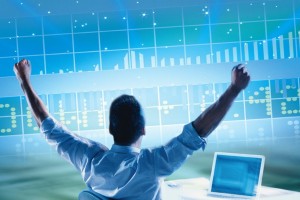 Millions of people ask themselves exactly the same question. The main reason why traders tend to conquer the famous Forex market is their desire to become rich. Many people hold the mistaken opinion that the Forex market is a dangerous game to play, and that there are no real millionaires who made their fortune solely trading in the Forex market. Well, it's not necessarily true. Perhaps, there are no such traders who made money trading solely in the Forex market, but there are many people who managed to increase their fortune many times over due to self-discipline, purposefulness, perseverance and a desire to grow and develop with Forex. Nowadays many people try to find who, in their opinion, are the most successful traders and then attempt to follow their strategy. This type of legendary trader, however, is rarely seen. Is it true that there is a small amount of successful traders, and are the stories about the Forex millionaires just beautiful legends?
Just because we are unaware that something exists, it does not necessarily mean that it does not exist. For example, let's take a look at your neighbours. Do you know if there are any millionaires amongst your neighbours? Most probably, you don't, and you never will, as these people tend to hide their personal wealth, which, after all is natural. The situation with Forex millionaires is similar. The people who made their fortune in this field, tend not to broadcast this information about themselves on Internet, forums and blogs. They are more interested in how to secure and improve their results. As a rule, people who lose out, tend to be the loudest in leaving negative comments. This might be one of the reasons why people think that Forex millionaires do not exist at all. It's important for the Forex novices to remember that they should not post real data about their profits. You will be surprised to know the number of people who want to see wages of a successful trader. Perhaps, the entire world would want to see this person, to learn his secret and achieve similar results.
The key moment is a correct understanding of trading in the Forex market. First of all, it is a business and not the place for making bets. Just like in any other business, your results depend upon purposefulness and assiduity. A professional trader can make good money if he is not greedy. You may be surprised but greed is the main reason of bad luck, for the most Forex players. If emotions are managed properly, a clever trader can make much more than any mid-level office manager. Being a market novice, you can start earning profit from 2000 USD, but in one year your profit can reach 20 000 USD a year, and then you can think that you are successful. The most important thing is to start. Failure isn't about not succeeding, failure is about not trying.
As in any other business, Forex has its own list of outstanding people, whose names are known all over the world. In this article we will give the brightest examples: people who achieved overwhelming results and became millionaires. They became known due to their inventiveness, hard-working and high self-discipline. Let these examples serve you as an additional source of optimism and desire to move forward, otherwise success is impossible!
In the Forex market the most successful trader is George Soros. George's career began with the establishment of Quantum fund on Curacao (an island in Lesser Antilles in West Indies) in 1969. Quantum fund has made a lot of successful deals in the currency market. George Soros is a man who "broke the Bank of England", he showed how vulnerable central banks are against currency speculations of large investors in terms of artificially maintained exchange rates. Usage of loans enabled George Soros to make a fortune just within a few weeks and begin his charitable activities.
Larry Williams is a legendary person in the currency and stock market. He began his financial investing activities in 1965. He put a special focus on technical analysis, world finances and economics. Later he started to learn the experience of professional traders. Within the short period he got a certificate of a financial consultant and taught novice traders. In five years Larry made his first million and became a millionaire. His personal secret of success became a scalping strategy which is widely used in the currency market even nowadays.
Alexander Elder (his occupation is psychiatrist) by his own example proved the influence of psychology on the exchange trading. His main line of activity is options and stocks. As of today Alexander Elder is an author of popular books about trading in the Forex and stock market. He is also the head of the professional traders training center. He managed to make millions not only by trading but by teaching how to trade and writing books.
Timothy Sykes is one of the most successful young traders in the world. His first step on the road to his first million Timothy made when he was 18. He was able to increase the amount given to him by his parents for his birthday, from $12,415 to $2 million. In 2003-2006 he took the first place in Barclays rating amongst hedge fund managers. Mister Sykes is an author of a famous book "An American hedge fund: how I made 2 million dollars".
No one can say that billionaire Warren Edward Buffet increased his wealth only due to trading in the Forex market. The major part of his capital Warren made in the stock market due to share trading. The secret of his success is quite simple and based exclusively on the fundamental analysis: the most important is to follow the changes in the economy of the countries in the short term.