Commodity and futures traders use a host of technical tools to help their trading; the COT Report is used by traders to determine the positioning of major players in the futures markets. This weekly report helps confirm trends, spot impending reversals and keep tabs on the overall positioning of "big money" traders. Understanding the COT report, what it covers, how to trade with it, and its limitations are essential for effectively using the weekly COT data.
What Is the COT Report?
The Commitment of Traders (COT) report is released at 3:30 PM EST, usually on Friday (may vary at times due to holidays) and includes data from the previous Tuesday. The COT data included shows the positions of three major groups of traders: Commercial, Non-Commercial (large speculator), and Unreportable (small speculator).
COT disaggregated reports break this down further, into categories of Producer/Merchant/Processor/User, Swap Dealers, Managed Money and Other Reportables. This breakdown shows which group of large traders are doing what. For example, if managed money is increasing their overall long/short position, or decreasing it.
New reports can be found each week on the U.S. Commodity Futures Trading Commission (CFTC) website, the governing body that collects and releases the data.
The report is available on all futures products. Since options are also tradable on futures, there are reports that also include options positions, called the Disaggregated Futures-and-Options-Combined. While options play a pivotal role in the financial marketplace, for most traders' purposes the Disaggregated Futures Only report should provide a good idea of how these large traders are positioning themselves.
There is also a long and short format of each report. The long format shows all the information of the short format (see Figure 1), but also groups the data by crop year (where applicable) and shows the percentage of positions held by the largest four and eight traders. The short format should provide most traders with what they need to use the COT report effectively for trading purposes.
Types of Traders Included in COT
There are a number of different trader groups listed on the COT reports.
Producer/Merchant/Processor/User is the group that actually produces or uses the futures product. Typically this group will take actually deliver on the future. For example, if producing something they may sell futures to lock in a price for it. If they need a commodity in their business process, they may buy futures to lock in a price on that commodity for when they will need it down the road. This is a group that knows a lot about their specific commodity and can move markets; this group is therefore closely tracked by traders.
Swap Dealers primarily use the futures market to hedge risk.
Managed Money is a speculative group which doesn't want to take delivery on futures contracts, they just want to profit from the rise and fall in the prices. This is a very large group, and their actions move inversely to the Producer/Merchant group. Since this group has the power to move markets it is also closely monitored by traders.
Other Reportables is large traders that don't fall under the above three categories.
There is also another group, not directly shown in Figure 1, known as Non-reportable positions. By taking all the open interest in a futures contract, and then subtracting all reportable positions (see groups above) there will be some open interest left over. These are trades made by small traders, typically speculators, that don't need to report their positions to the CFTC.
Small speculators are considered to be the most uninformed about the futures market, and therefore some traders use small speculator positioning as a contrary indicator (take positions opposite of the small speculators) or ignore this data altogether.
How to Read the COT Report
The COT Disaggregated Report looks scary at first, but can be broken down into several chunks of key information.

In Figure 2, the red box shows the commodity. Since the full report lists multiple futures contracts, you'll need to scroll through and find the one you are looking for.
The black box at the top shows the date of the data.
The blue boxes highlight each major group. Below each group is "Long : Short." Continuing to scroll down within the box we see "Positions." The number on the left is how many contracts are long and on right is how many contracts are short. For example, under the Managed Money category there are 149,260 contracts long and 27,173 short. In other words, the Managed Money group is bullish.
Below the "Positions" is "Changes from July 8, 2014" (or the prior week). This shows how much of a change there was in long and short positions, for that group, from last week to this week.
For example, under the Producer/Merchant group, long positions increased by 1,167 contracts and short positions decreased (-) by 1,1441 contracts.
The green box states total open interest at 408,368.
The bottom two rows give additional information, such as how much of the open interest each groups positions represent. The bottom row shows how many traders are in each group.
How to Trade the COT Report
Reading through the report may provide some insight into how traders are positioned, but the real value is monitoring how these positions change over time. Just knowing that Managed Money has 200,000 contracts long doesn't tell you anything, unless you can figure out if they are accumulating more or starting to unload contracts over time.
Therefore, to make the COT data useful it needs to tracked, potentially in a spreadsheet, to show how positions are changing over time. Luckily some sites track and chart the data for us, so doing this manually isn't required.
The changes over time in major trader positioning (commercial and large speculator) are important because trading positioning drives trends. For example, if large speculators (such as Money Managers) are heavily bearish but then begin to decrease their short positions by buying, this trend is likely to persist for some time, and the price will move up accordingly.
Typically, price moves are correlated with what large speculators do, so monitoring their positions can act as a confirmation for trade signals seen in the price action.
Figure 3 shows a price chart of gold along with COT summary data, which just includes Large Speculators, Commercials and Small Speculators. This type of chart should provide all the data needed to confirm trades, although the disaggregated data which breaks down the large groups can also be added to the chart, for example, to see exactly what Managed Money is doing.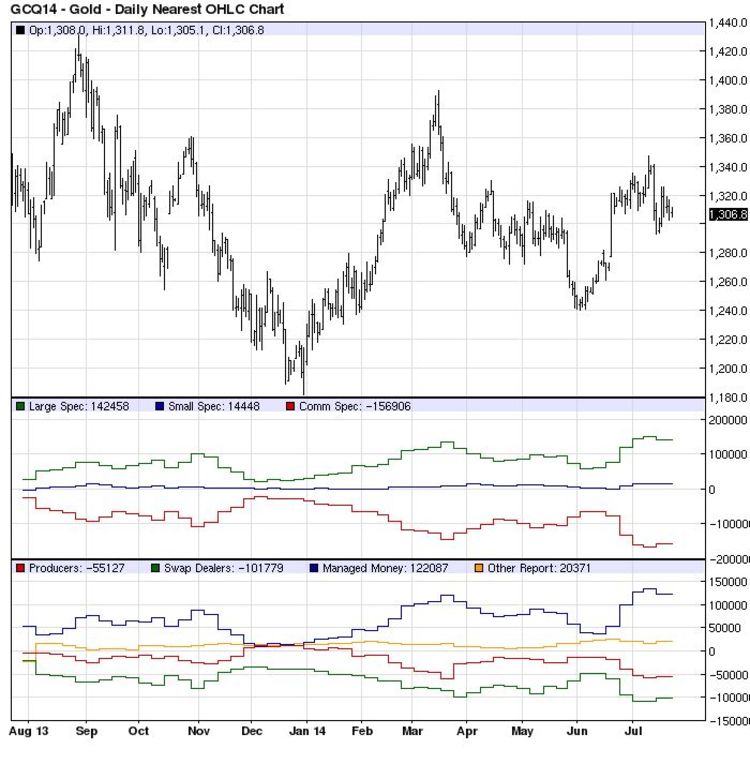 Notice how the Large Spec positioning is highly correlated to price. As price rises, so does the net long position of large speculators. As the price drops so does the number of long positions Large Speculators carry. This is inverse to Commercials (Comm Spec. on chart), which over this time frame are net short, but as the price drops they tend to buy, decreasing the number of short contracts they hold. When the price rallies they accumulate more of a short position again.
These relationships may not always hold true, for example Commercials aren't always short as shown on the chart (negative numbers on right axis), but large speculators do tend to be highly correlated with price movements, while Commercials are often inversely correlated.
There are a number of ways to use this data for trading purposes.
Also using price analysis, watch for trendline breaks and trend reversals that are confirmed by Large Spec. positioning. In Figure 4 the price is moving lower and Large Spec. long positions are also decreasing. By the time price breaks above the trendline and Large Spec. long positions have already leveled off and started to creep back up. This helped confirm that Large Speculators were on board and starting to accumulate more long positions, pushing the price higher.
A long trade could have been initiated on the trendline line breakout with confirmation from the COT data.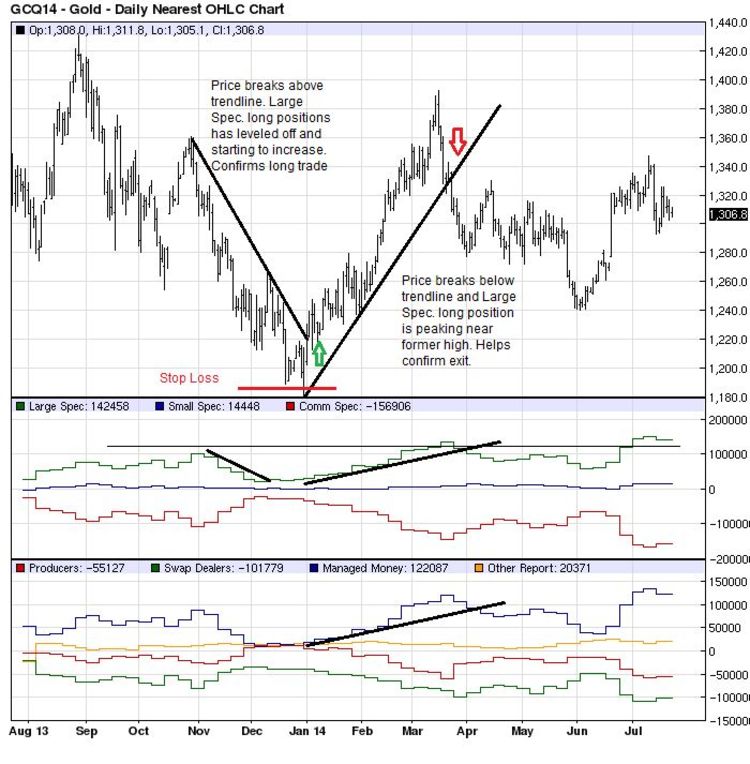 Using historical Large Spec. readings can also be beneficial. Similar to what happens with price, Large Speculators also seem to hit areas of support or resistance in regards to how many contracts they hold. In Figure 4, when Large Speculators get over 100,000 net contracts longs there tends to be a correction (although not necessarily right away). Note that this number will fluctuate over time, and vary by each futures contract. Monitor historical COT levels to see which levels may be relevant in the contract you are interested in.
The price in gold rises after buying it, but eventually the price breaks below the trendline. At this time Large Spec. positions are well above 100,000 contracts long. Since over the last year this level resulted in corrections, when the price breaks below the trendline it provides added evidence that now may be the time to get out of the long … and potentially go short. Shortly after the trendline break, Large Speculator long positions begin to decline (along with price), confirming the decision.
It is also important to look at the overall trend in positioning. While Large Spec. long positions have increased and decreased in Figure 4 there is an overall uptrend as the green line is making higher highs and higher lows on each swing. This shows overall that Large Speculators are accumulating, and therefore expecting the price of the future to rise over the long-term.
COT Report Limitations
The main drawback of the report is that it is always lagging. It is not a real-time report detailing positions now. Between when the data is gathered and when the report is disseminated, large changes in positioning could have already occurred. This is why traders watch for trends in positioning, instead of just focusing on each weekly number.
Like any trading strategy, not every trade will work out. While all the evidence may point to the price going higher because of information in the COT, the price can drop as traders can change their minds relatively quickly and seek to adjust their positioning. Also, correlations between price direction and Large Spec. positioning can break down for periods of time, making the data harder to trade off of using the above methods.
The COT provides confirmation for price action, but volatility can mean the price won't zoom directly in our favor. Use price analysis for stop loss placement and determining when to exit profitable trades. Price should always be the primary input, and COT data just a confirmation tool.
The Bottom Line
The COT report released by the CFTC each week is a great tool for traders. It shows how large traders—commercial and speculator—have positioned themselves in the market. How positioning levels change over time is more important than a single piece of data, since changes can help with spotting reversals and confirming trends. The COT data is delayed and is not a real-time reflection of current positions (although it is relatively close).
While the report can help traders confirm trades, there is still no guarantee a trade will work out. Traders most closely follow Large Speculators because this group moves the market, or Commercials because their positions move inversely to the Large Speculators.
Related articles